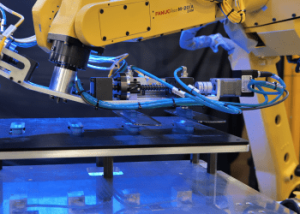 Paramount Tool Company is proud to be a FANUC Authorized System Integrator. Specifically, we're certified to integrate FANUC robotic systems and have a reputation for exceeding customer expectations.
When it comes to picking a partner for your next project, Paramount Tool Company is the most logical choice because we are part of FANUC's exclusive network of companies that are authorized to integrate their robotic systems.
Benefits of Working with Paramount Tool Company
FANUC is the leading supplier of
in both North and South America. As a testament to their powerful brand, over have been installed in facilities around the world. Being a FANUC Authorized System Integrator allows us to provide the best service to our customers.
We offer several advantages that the competition doesn't, including the opportunity to work with expert certified engineers and stocking FANUC robot spare parts for emergency repairs.
Here are some other benefits of working with Paramount Tool Company.
Superior Customer Service
Nothing is more frustrating than working with a company that lacks the specialized knowledge you need for your project. That's why it pays to work with the custom machine builders at Paramount Tool Company. Our expertise lies in integrating FANUC robotic systems with existing industrial infrastructure so you can increase productivity, throughputs, and profit.
Our team will not hesitate to reach out to you during every stage of the process. After all, we want to ensure that you're kept informed as we create your custom automation solution through FANUC robotics. This is just one of the many ways we express our dedication to providing superior customer service.
FANUC-Certified Engineers
FANUC carries a wide range of robot models for almost every industry and application. As such, it's vital that you hire a custom machine builder who understands how to apply these robotic systems to your facility's setup.
FANUC robots have payload capacities that go anywhere from 0.5kg to 2,300kg. These robots are also used for everything from material handling to industrial welding. This wide range of variation makes it essential for you to work with engineers who are certified by FANUC. That way, you can develop the custom solutions you need for your company.
Our custom machine builders are also pre-approved to perform warranty repairs, which will help you avoid unexpected and costly shutdowns.
Learn More: 5 Tips for Machine Maintenance >>
Request an Estimate
Our custom machine builders in Holland, MI, would be more than happy to work with you and your team. As a FANUC Authorized System Integrator, we have the knowledge and experience to make your next project a resounding success. To request an estimate, call Paramount Tool Company at (616) 582-5300. We hope we hear from you soon!