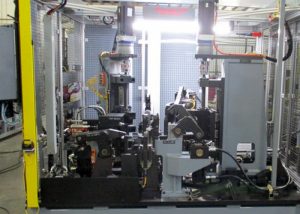 As a custom machine builder, we often recommend automatic straightening machines (also called truing machines) to straighten aluminum and magnesium castings back to their original form.
After those parts have been through a heat treat process, these slight variations can be removed allowing the part to return to its pre-heat treat form.
It is our goal to provide the best quality service and parts for every project. Whether you're in the medical field, the automotive industry, or anything in between, you can trust us to find the best manufacturing solutions for your company.
We strive to reach every client's goals with passion and integrity. Please contact us today with any questions you may have about our straightening machine services.
Straightening Machine Process:
Part is loaded into cell on (3) A-datums
Clamps close over (3) A-datums
Cell will measure the 4th A-datum
By the use of very high tolerance laser sensors, the determination is made as to the direction the 4th A-datum needs to be moved allowing it to enter the customer supplied specification
Straightener jaw engages 4th A-datum and manipulates the part in the correct direction
This cycle is repeated until 4th A-datum is in specification
Other datums and locations can be straightened with other jaw assemblies as needed by part configuration
Types of Straightening Machines
The size of your automatic straightening machine will depend on the lengths and sections of the parts you need to be straightened. Since workpieces come in different types and dimensions, you'll need the help of our custom machine builders to design the best automatic straightening machine for your company.
Advantages of Straightening Machines
Despite advances in manufacturing technology, parts often have slight defects. Fortunately, our custom machine builders are able to create straightening machines to correct these defects and help you save money in the long run.
Talk with one of our custom machine builders to learn about trends in your industry. We can help you integrate your new straightening machine with your existing .
Request a Quote With Us
As a machine company in Holland, MI, we understand how important it is to improve productivity and efficiency in your facility. To request an estimate for a straightening machine, call Paramount Tool Company at (616) 582-5300.