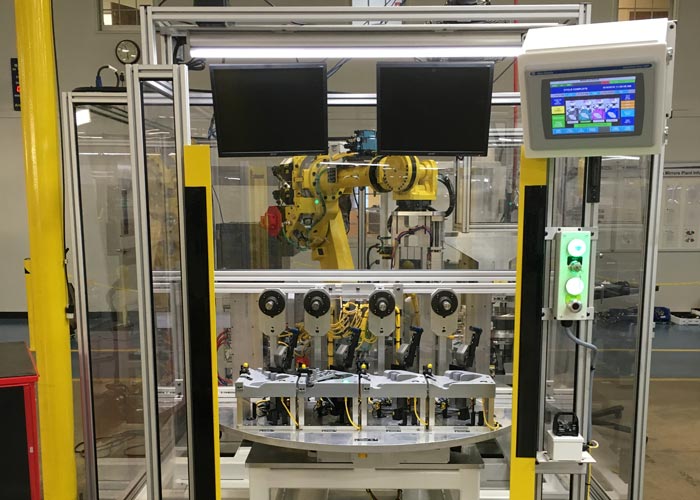 Unlike a rotary table, the head of an indexing machine can be tilted and rotated. Depending on your company's needs, a different feature evenly spaced along the circumference of a circular workpiece may be necessary.
As a custom machine builder in Holland, MI, we have experience collaborating with customers to discover real-world industrial solutions. We always strive to provide the best products and services to our customers.
Contact our office today with any questions about indexing machines.
Types of Indexing Machines
We're able to create indexing machines for a wide range of industries, including yours. Ask our custom machine builders about trends in your industry. For example, we may recommend a rotary indexing machine for manufacturing medical devices or beverages.
Dial indexers provide the simplest means of fixture transport between assembly and test stations. A machine built around a dial indexer can be synchronous or asynchronous depending on process and throughput requirements. Other considerations include whether it is to operate as a semi-automatic or fully automatic machine drive selection. Limited only by the number of stations or available "slices of pie" (fixture real estate), a dial indexing machine is the first choice considered for applications requiring high yield throughput.
Applications Include:
Bumper assembly stations
Caster assembly stations
Manufacturing Solutions
We're able to integrate indexing machines with industrial automation systems so each task blends seamlessly into the next. For example, we've created industrial automation systems that partner with pick-and-place units. As a custom machine builder, we carefully evaluate the context of how your indexing machines will be used so you can reap the most benefit for your investment.
Request a Quote With Us
As an indexing machine company in Holland, MI, we collaborate with you to come up with the best manufacturing solutions for your facility. To request an estimate for an indexing machine, call Paramount Tool Company at (616) 582-5300.