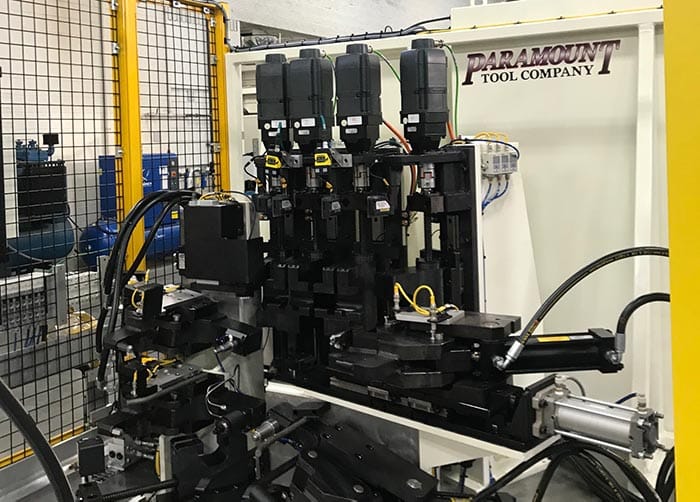 Our company offers dispense applications in Holland, MI. We take the time to listen to customers and help them reach goals for production, safety, and quality.
We understand that dispense applications are an investment in your business, which is why we offer a range of dispensing systems for your specific industry and application.
Our industrial dispensers are designed to precisely deliver adhesives, lubricants, sealants, and other assembly fluids.
Paramount Tool Is Conscious Of Dispense Applications
Liquid Dispensers
We offer many liquid dispensing systems, from manual dispensing pens to automated dispensing systems. As a dispensing systems company, we have plenty of experience designing and building the right types of
for our customers. For example, you may need a liquid dispensing system to apply a liquid to a printed circuit board assembly. We understand that there's no room for error, which is why we build our automated dispensing systems to be highly precise.
Adhesive Dispensers
Whether you need adhesive dispensers for medical device manufacturing or electronics assembly, you can trust our years of experience in designing industrial solutions for our customers. Our adhesive dispensers deliver the correct amount of adhesive to a high degree of precision. We offer a complete line of adhesive
for many industries, including aerospace, automotive, material packaging, medical, and electronic.
Adhesive dispensers come in three dispensing methods: manual handheld, semi-automatic, and automatic. Our team can help you determine the type of dispensing method that works best for your application. We have a reputation for creating dispense applications that work to our customers' advantage.
Do you still have questions about our industrial dispensers? We understand that a dispensing system is an investment in your company, which is why we'll take the time to answer any questions you might have.
Request a Quote With Us
We are a dispense applications company in Holland, MI, that's dedicated to designing innovative solutions for our customers. To request an estimate for any of our dispensing systems, call Paramount Tool Company at (616) 582-5300.