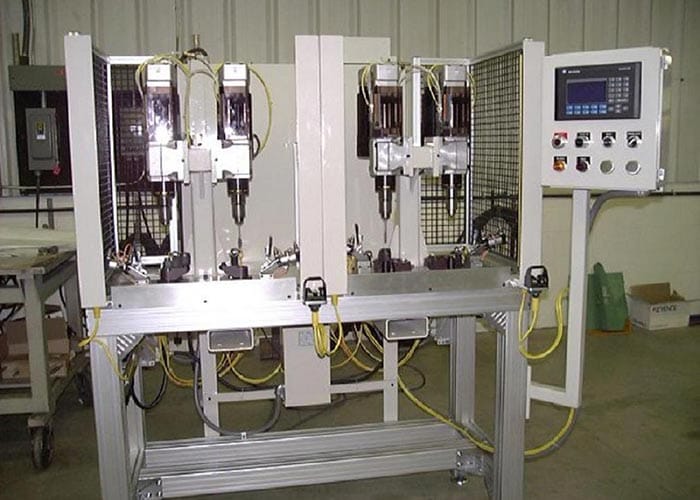 Our team of custom machine builders in Holland, MI, can help you ensure quality   for your automation project. Call today to learn how we can design and build screwdriver stations to fit your company's needs.
In all our interactions with customers, business associates, and colleagues, we seek to deal with others as we would have them deal with us. It is our goal to provide the best products and services possible.
Please contact us with any questions you may have regarding our services.
Semi-Automatic Indexing Screwdriver Stations
A semi-automated screwdriver station helps you save the cost and time associated with labor. Instead of having human workers manually handle screws, we can help you transition to . Our screwdriver stations work by robotically inserting and tightening screws with an efficiency unmatched by human workers. Our custom machine builders have experience working with a variety of industries, including automotive.
Our semi-automatic screwdriver stations allow you to select different screwdriver bits, which come in different shapes and sizes for your specific application. Many of the companies we work with also appreciate that they can program the position points to achieve a high level of precision. A semi-automated screwdriver station gives you the assurance that each screw is in the correct location at the proper torque.
Manual Assembly/Screwdriver Stations
We offer different types of screwdriver stations to help you achieve tasks specific to your industry and application. For example, our manual assembly/screwdriver station includes the operator in the assembly process. These industrial workstations are also flexible, which means they'll be able to adapt to your company's changing needs over time.
Request a Quote With Us
We offer semi-automated screwdriver stations to help you meet your production goals. As a screwdriver station company in Holland, MI, we have experience collaborating with clients to find the best manufacturing solutions. To request an estimate for a screwdriver station, call Paramount Tool Company at (616) 582-5300.