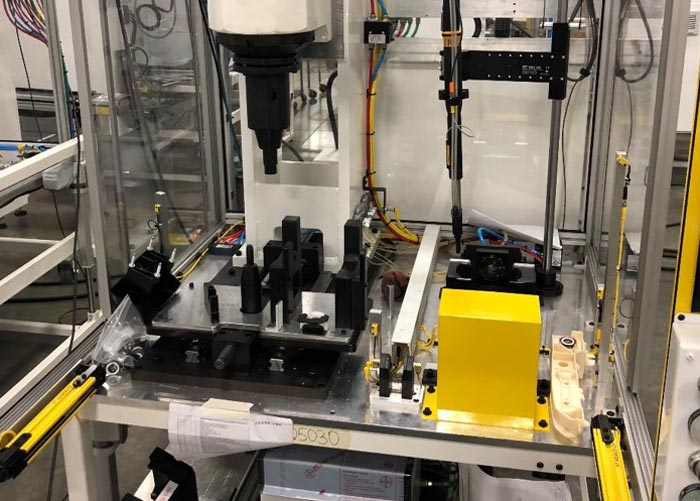 Our custom machine builders continuously listen, learn, and evolve so that we can focus on the one thing that's always been most important – the Paramount customer. As an orbital riveting machine company in Holland, MI, we have experience collaborating with clients to meet production, safety, and quality goals. Orbital riveting integration is just one of our many skill sets.
By integrating 
with custom assembly stations, the ability to forge metal materials with higher precision is possible.
What is orbital riveting?
orbital riveting machine into a head that holds the assembly together. The peen is held at a fixed angle to apply pressure to the headless end of the rivet and forms the material with each rotation. We can help you choose from the best orbital heads for your specific application.
is a cold-forming process. During cold forming, metal is forged at near room temperature under high-speed rotation and pressure. The rivet (short metal pin or bolt) is threaded through two metal plates before being pressed down by the peen of the
What is the purpose of orbital riveting?
Companies typically use orbital riveting machines to make permanent joints. We can help you integrate orbital riveting machines with custom assembly stations so you can create attractive, high-quality joints. Whether you need to form one end or both ends of the rivet at once, you can trust us to successfully integrate orbital riveting machines into your existing system.
What are the benefits of orbital riveting?
Orbital riveting uses a cold-forming process, which means you'll be able to improve operator safety because the components won't be heated. The cold-forming process increases the metal's tensile strength, yield, and hardness. Orbital riveting also doesn't produce any hazardous fumes. Compared to impact riveting, the equipment for orbital riveting is lighter and runs more quietly.
Request a Quote With Us
Have questions about orbital riveting integration? As an orbital riveting company in Holland, MI, we do everything we can to integrate the perfect industrial machinery to meet your production needs. To request an estimate for integrating an orbital riveting machine with your current system, call Paramount Tool Company at (616) 582-5300.