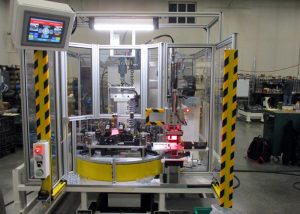 Simply put, rotary indexing is one of the most efficient methods of moving parts through an assembly cell. At Paramount, we use rotary indexing tables in our custom machines to suit our customers' diverse needs. Here's what you need to know about rotary indexing and what it can do for your business.
How Does a Rotary Indexing Machine Work?
Rotary indexers convey and position components during the manufacturing process. The indexing unit rotates items to a specific position, either fixed or variable.
These indexers are often used to place objects at exact points around a workspace so that they can be worked on, like a circular assembly line. The table moves each item a precise distance, at which point the operation (physical or vision) is performed.
Depending on your specific needs, the indexer can be adapted to the assembly functions required.
What Industries Use Rotary Indexing?
Our team carefully evaluates the context of your operations so that the indexer will most benefit your operation. Rotary indexing machines can benefit a variety of industries within the manufacturing space, including:
Aerospace
Automotive
Medical
Science
Food and beverage
And more!
We combine
with industrial automation systems so each task of your manufacturing process blends seamlessly into the next. For example, in the past we've created industrial automation systems that join rotary indexing machines with pick-and-place units for some of our clients. Contact us to see what we can do for you.
What Should I Look For When Integrating a Rotary Indexer?
Rotary indexers are just one part of the equation when building a custom assembly cell. It's important to remember the entire scope of the project and be cognizant that the rotary table should be able to move precise distances before stopping cleanly, with no backlash or wobbling. It needs to be balanced and capable of handling the tasks at hand.
Our automation experts have years of experience in consulting with our customers to create machines that suit their needs. We incorporate rotary tables from industry leaders like custom machinery.
, Fibro, and Camco into our machines to create the perfect fusion of form and function. Our dedication to quality is unmatched in the world of
Ready to Learn More?
We seamlessly integrate rotary indexing tables into our automated machinery to provide you with custom solutions that work for your business. If you're looking to take your manufacturing process to the next level, give the custom machine builders at Paramount Tool a call at (616) 582-5300 today. We're always happy to answer any questions you may have about our rotary indexing machines or the machine building process as a whole. For a free quote, fill out our contact form and we'll get back to you as soon as we can.