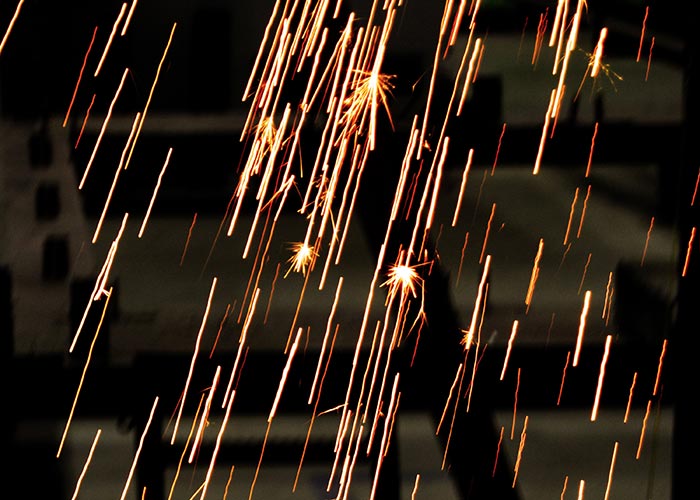 The world of industrial welding is evolving, as technological advancements make it easier than ever to accomplish welding on a large scale. If your business uses industrial welding in its manufacturing process, you'll most likely want to invest in an automated welding station to help streamline your production.
At Paramount Tool Company, our custom welding station builders can design and create an automated welding station that can help your business grow. Here are a few things you need to know before we get started on your welding station.
What is robotic welding?
Robotic welding removes the need for direct human interaction with the welding process, as the machine is capable of welding and handling the parts on its own while a human instead oversees the machine.
is the process of using machines to perform industrial welding tasks. The idea of using robots in welding began in the auto industry in the 1980s, where welding robots found a place along the production line. Today, the role of robotics in welding has greatly expanded to include larger and more varied roles for machines.
What is resistance welding?
Resistance welding is the process of fusing two pieces together by exerting pressure and bonding them with an electric current. There are two main types of resistance welding: spot welding and seam welding. Spot welding is used to join two pieces of metal together. Electrodes are used to clamp the pieces of metal into place, and a current is then passed through the metal to generate heat. This melts the metal in strategic areas and fuses the pieces together. Seam welding uses a similar process to join two pieces of metal at their
.
Why use automated welding stations?
Automated welding stations are safe, reliable, and cost-effective. By removing the human element of the sometimes-dangerous welding process, you reduce the risk of injury to your employees while maximizing your potential output. Machines don't need to take breaks, and they produce consistent, high-quality work every time. By investing in these highly efficient machines, you can save yourself time, money, and energy in the long run.
How can I buy automated welding stations for my business?
If you're looking into automated solutions for your business, our team can help! We have years of experience in creating custom welding machines and more for businesses all over western Michigan. Simply fill out our form to get a free estimate for your custom welding station, and our team of professional custom machine builders will walk you through the process of turning your idea into reality. No matter your industry, we can help you streamline your manufacturing process through automated welding stations.
When you're ready to take your business to the next level with automated welding, we're here for you. Paramount Tool Company is a custom machine building company in Holland, MI. We have years of experience in outfitting businesses just like yours with the equipment they need to grow and thrive. To request an estimate for automated welding stations, industrial automation, or any of our other manufacturing solutions, give us a call today at (616) 582-5300.