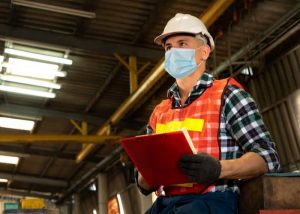 Labor shortages are nothing new in the manufacturing industry. In fact, from the Society for Human Resource Management found that 27% of workers in the manufacturing industry are age 55 or older.
That was in 2015.
Today, more skilled workers are retiring and leaving the workforce. But companies that invest in automation tend to be more resilient, especially during these unprecedented times.
No one knows when the pandemic will end. This means that the companies that survive this crisis will be the ones who possess the courage, ingenuity, and foresight to adapt.
How COVID-19 Has Affected Manufacturing
Certain manufacturing sectors, such as those belonging to the food and medical industries, are essential to our economy and way of life. For this reason, many manufacturers have had to adapt to both an increase in demand and a decrease in available workers during the
.
The Perfect Storm
COVID-19 is an airborne virus, which can create a perfect storm for manufacturers who are unable to maintain social distancing (6 feet) between employees on factory floors and production lines. This is why industrial automation has become more important than ever.
Companies have always used automation to transfer hazardous tasks from humans to machines. But COVID-19 has changed our definition of hazardous. Now, even standing fewer than 6 feet to another worker for hours at a time can increase your risk of catching COVID-19.
The good news is that automation can help you create safer working conditions.
How to Create a Safer Workplace
One of the biggest and unspoken barriers to automation is the lack of skilled labor in the manufacturing industry. While it's true that automation decreases your dependence on unskilled labor, it also creates a need for people to manage and maintain your new technology.
The easiest solution is to train from within. As a company, you already employ workers who are dedicated and eager to learn. Why not nurture the talent they already have so they can grow within your business? In our opinion, employees are a company's greatest asset.
The media loves to cast automation in a bad light by saying that it displaces workers. To an extent, this is true. Automation does transfer tasks that are menial, highly repetitive, and hazardous onto machines. But in turn, automation creates new opportunities for employees to learn skills that make much better use of their creativity and problem-solving skills.
As a custom machine builder, we'll be able to work with you to design an industrial automation system that is both efficient and user-friendly. For example, we may be able to simplify equipment features and design user interfaces so your employees can perform tasks without having to know programming or other technical skills.
All of these efforts will culminate in a safer work environment and skilled employees with a newfound dedication to your company.
Request an Estimate
Paramount Tool Company is a custom machine builder in Holland, MI, that has served clients for over 50 years. To request an estimate for our industrial automation solutions, call (616) 582-5300. We are looking forward to working with you and your team!
---
Related Blog Posts
New to Industrial Automation? Here's What You Need to Know