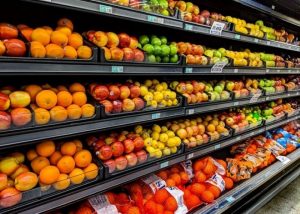 You're responsible for maintaining high standards for quality and sanitation at your facility. Our job is to help you deliver on those standards through industrial automation.
An automation system can:
Automate tracking
Maintain quality
Reduce waste
Increase your production rate
Protect your company's brand
1. Automate Tracking
Recalls protect consumers from contaminated foods and beverages. As such, it's vital that you're ready for a fast response through automated tracking. This allows you to track your products from start to finish as they work through the supply chain.
In other words, you're able to track your products as they move through your company's process. By automating tracking, you'll be able to better manage recalls to protect consumers. This will also help protect your company's reputation in the long run.
2. Maintain Quality
There are so many touchpoints along the food and beverage supply chain. While necessary, these touchpoints may make it difficult to track your food's quality. But automation makes tracking and maintaining quality much, much easier. Ask any custom machine builder!
An food and beverage industry. After all, food must be traceable and safe.
produces predictable, consistent results. This is essential when you're working in the
The right systems will help you detect problems in the supply chain early. That way, you'll be able to reduce how many defective goods reach consumers.
Quality also refers to the flavor of foods and beverages. Once someone falls in love with your food's flavor, they don't want it to change. For example, someone may stop buying a beverage if it starts to taste like it's watered down.
With
, you can ensure that you're producing a consistent flavor profile. This will help keep your customers coming back, ensuring brand loyalty.
3. Reduce Waste
If you produce too much, you could end up with a lot of waste. Not to mention, it'll cost your company a lot in the long run.
That's why we recommend food and beverage companies adopt automation systems.
An automation system will handle your number of inputs to a high degree of precision. Industrial automation will also track your outputs so you can reduce waste. Call our machine builders today to get started!
4. Increase Your Production Rate
Unlike humans, machines can work long hours without breaks. In fact, you can run industrial machines 24/7 if needed. This continuous production increases the number of foods and beverages your company is able to offer. In turn, this will help increase your company's profits in the long run. In other words, industrial automation is an investment in your business.
5. Protect Your Company's Brand
Your brand is what makes you unique from the competition. It's also what attracts new business and maintains your loyal customer base.
Keep your customers happy and your business will thrive. Release contaminated products and watch your brand's value drop.
No one wants that. Especially us.
The good news is that we offer a range of manufacturing solutions for the food and beverage industry.
One of the best ways to protect your brand is to deliver safe, high-quality products to consumers. Our team would be more than happy to help you develop the appropriate automation systems. Our passion is helping companies like yours adopt new innovative technology.
Request an Estimate Today!
Call today to learn about manufacturing solutions for your food and beverage company. You may also check out our other blog post on how custom machines go from us to you!
Paramount Tool Company is a leading expert in industrial automation systems. To request an estimate with our , call (616) 582-5300. We'd love the opportunity to work with you and your team!