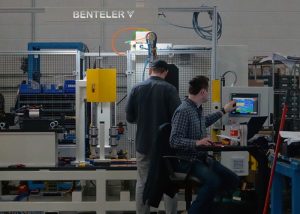 One of the primary benefits of industrial automation is the fact that machines often make the manufacturing process safer for employees. By automating tasks that are time-consuming and dangerous, machines remove the risks usually associated with certain industries. However, the machines themselves must be operated safely in order to truly minimize the risks to your employees.
At Paramount Tool, we take safety seriously. We take risk into consideration when creating our custom machines, and we want to make sure your employees operate them safely, too. Here's what you need to know.
Precautions We Take
As custom machine builders, it's our job to anticipate everything that could possibly go wrong during the operation of each machine we make. All of our products are up to code and prioritize the safety of the user. We abide by industry standards while manufacturing our machines.
The first step is to identify how the operator interacts with all forms of energy inside the cell. We then predict what issues a machine operator might run into throughout the course of the job. It's up to us to design safeguards that protect the employees operating the machines. We need to think outside the box in order to anticipate everything that could go wrong during the many stages of the process, from assembling the machine to operating and cleaning it.
Once those safeguards are in place and we've mitigated risk associated with the process, our customers do the rest. Operating our automated machines in the manner designed is the best way to keep accidents from happening.
What You Can Do
Despite the safety precautions we put in place, accidents can still happen if you're not careful. Our safeguards are designed to prevent injuries, but only if the machine is being used as intended. It's important to review all safety standards and information before training your employees on how to use a machine.
First, be sure to wear any
(PPE) that's required in the plant. This could mean safety glasses, hair covers, gloves, or sturdy work shoes depending on the industry you're in. It's tempting to skip out on PPE if you've been doing the job for a long time, but it only takes one accident to cause a lasting injury.
Next, know the ins and outs of the machines you're operating. Follow all instructions to the letter and don't gloss over safety procedures or steps in the process. If you're not sure how the machine is supposed to work, our machine builders can help walk you through it. Every employee who works with a machine should be properly trained on how to use it.
Finally, be sure you're scheduling regular machine maintenance and inspections. While our machines are built to last, every automation cell requires preventative maintenance. Our team of professionals will inspect and repair your machines any time there's a problem so you can keep them running as intended for life.
Ready to Learn More?
Are you ready to invest in industrial automation for your business? We're here to help! Paramount Tool Company is a custom machine builder in Holland, MI. We have years of experience in helping businesses like yours achieve greatness through industrial automation. To request an estimate for industrial robots, , or any of our other manufacturing solutions, call (616) 582-5300.