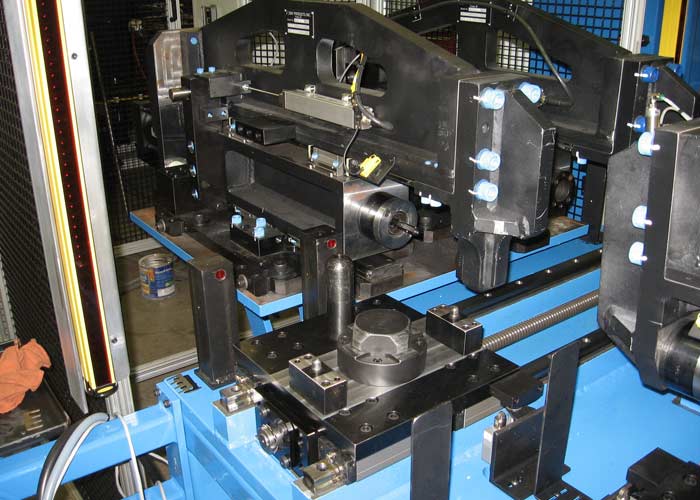 Paramount Tool Company offers three levels of vision inspection systems: Basic, Verification, and Advanced. As a custom machine builder, we have over 50 years of experience helping companies integrate new technology with their existing industrial automation systems. We're also able to design and build automation systems for new facilities.
Each vision inspection system is different. Continue reading to learn about the different types of vision inspection systems. If you still have questions, don't hesitate to call our custom machine builders in Holland, MI. Our team will be more than happy to help you get started.
Basic Machine Vision
Do you need simple, low-cost machine vision? If so, ask us about getting a basic vision inspection system for part detection. A basic vision inspection system can replace multiple sensors with as little as one camera! This allows the system to "see" like a human would to find specific objects within an image. In other words, the vision inspection system would "look" for specific parts.
Part detection is used for a variety of industrial processes, such as quality management, inventory management, and sorting. For example, the food industry often uses machine vision to detect damaged fruits and vegetables on assembly lines. That way, they're able to remove damaged produce and maintain a high level of quality for their customers.
No matter your industry, a basic vision inspection system for sorting can help you cut down on labor costs and remove the possibility of human error.
Verification Machine Vision
Using this setup gives you all the benefits of a smart sensor, but with the ability for more advanced part detection. For example, a verification inspection system can detect part orientation and component load location within tighter tolerances. This helps your industrial automation system perform as you intended.
Advanced Machine Vision
Advanced vision inspection systems have the capability of the basic and verification systems with high precision and high-speed measurement, part defect detection, and barcode grading. Our advanced vision inspection systems can help you comply with regulations and compete in your industry. This is because an advanced vision system meets the need for tighter fault detection and quality assurance.
Some of the companies we're proud to serve belong to the pharmaceutical and medical industries. Whether you're manufacturing medical devices or prescription bottles, you can trust us to provide the best vision inspection system for your specific application. For example, advanced
offers barcode grading so you can ensure your medical devices meet standards for traceability.
Call Paramount Tool Company
We offer a diverse range of solutions customized to your needs and ergonomically designed for ease of operation and employee safety. Our team will work with you one-on-one, providing personalized service from beginning to end. Our custom machine building solutions are based on creative minds and over 50 years of experience.
Paramount Tool Company is a custom machine builder in Holland, MI that's built their reputation on three principles: quality, dependability, and a strong commitment to customer satisfaction. To request an estimate for a vision inspection system, call (616) 582-5300.